About Us
The BADER Consortium supports the advancement of nationwide orthopaedic rehabilitation research capabilities at medical treatment facilities and Department of Veterans Affairs sites.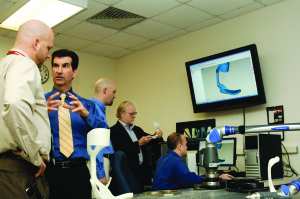 The goal is to help injured service members and civilians with limb loss and limb difference benefit from significant research advances that will allow them to fully return to their previously active lifestyles, and if desired, active duty.
The administrative offices of the BADER Consortium are housed at the University of Delaware, but the bulk of its research work takes place at affiliated research locations across the country.
In addition to funding innovative, high-impact and clinically relevant research studies, the Consortium provides needed staff as well as administrative and scientific assistance to develop a research infrastructure at these locations.
BADER Consortium currently funds eight studies across the country totaling nearly $8 million that aim to improve the lives of wounded warriors and optimize their functional outcomes following combat and combat-related musculoskeletal injuries.
These studies are taking place at Walter Reed National Military Medical Center in Washington, D.C.; Spaulding Rehabilitation Hospital in Boston, Mass.; Brooke Army Medical Center – Center for the Intrepid in San Antonio, Tex.; Naval Medical Center San Diego; University of Colorado; and University of Minnesota.
Number of BADER-funded projects:
Number of employees supported by BADER:
Number of BADER Consortium affiliates:
MTF projects currently supported by staff: